Opinion: two technologies to transform your digital strategy in 2021
Founder & MD, Josh Fletcher, gives his thoughts on the two technologies he believes have the power to transform digital strategies and drive bottom line growth in the pandemic era. 
When the world and its economies are rocked by a crisis like Covid-19, new consumer behaviours are formed. Eventually, those 'new behaviours' just become 'behaviours'.
Total UK eCommerce spend grew by 36.6% Y-o-Y in 2020, with consumers spending £35 billion more than in 2019. Not to mention the accelerated adoption of streaming services; a greater focus on health and well-being and increased social media/Internet consumption. These are all are consumer behaviours that, in my opinion, are going nowhere after the pandemic.
So, what does this mean for brands?
Adapt and innovate.
For businesses to flourish in this next phase, they will need to innovate. No question. And I don't necessarily mean by creating a new product or launching your first TikTok campaign. I believe that innovation is not only an outcome, but a progressive mindset which brands must engrain into their business culture.
There are two particular technologies that can be embedded as part of your digital strategy for the long term. Both of these tools bring untapped opportunity for innovation and creativity, and both are more affordable and accessible than ever before.
I'm talking about Artificial Intelligence [AI] and Augmented Reality [AR].
Artificial Intelligence
I, like many others, fell down the AI rabbit hole courtesy of Elon Musk.
AI has been used in advertising for several years to more meaningfully unite brands with people, by serving them content that they care about. A good example of this is Facebook's News Feed algorithm, which uses Machine Learning (a form of AI) to determine which posts are shown in your News Feed each time you log in. Facebook Ads also uses AI/ML to process campaign data and make decisions on who to show your ads to, based on which audience segments are most likely to convert using metrics such as click through rate [CTR] and cost per acquisition [CPA] to make those decisions. Artificial Intelligence is very much hidden in plain sight when it comes to advertising and social.
But how can you use AI to skyrocket sales and drive innovation in your business?
1. Personalisation
Consumers expect seamless experiences from brands online. A big part of this puzzle includes personalised offers, products/services and content.
Try to recall the last time you visited Amazon. You probably noticed a page that shows products that you might be interested in, along with featured selections under each product. This is a great example of how AI personalisation enhances customer experiences.
Amazon's algorithm analyses the products that you previously purchased and recommends products across all categories that fit your needs. Adding a similar feature to your eCommerce site that works off your customer personas can help you create highly personalised offers for users on your website, email and even social.
2. Chatbots & Natural Language Processing (NLP)
Natural language processing (NLP) is a subset of machine learning that can understand, analyse, compile and deliver human speech. Digital marketers use it in a variety of ways to improve customer acquisition, user experience and engagement. Most commonly, NLP is used in 'chatbot technology' – to have an automated conversation with users that land on your website. A good example of widely adopted chatbot technology, is Drift.
Chatbots can understand basic requests from consumers, articulate a response and even make changes to their accounts. There's no doubt that this feature has improved the way that brands sell products to their customers and acquire new leads.
Augmented Reality
Augmented Reality [AR] is a technology that I have taken a greater interest in since I discovered Ray-Ban's simply brilliant 'Magic Mirror' feature.
Given the current climate, the ability to take a product, in this instance sunglasses, and try them on virtually is an extremely valuable tool for retailers – and one that I can confidently say Ray-Ban has aced (£140 and a pair of tortoise shell Wayfarer's later).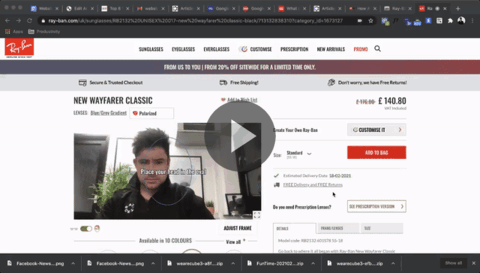 While AR doesn't fully replace the experience of trying on a product in-store, it certainly enhances the online buying experience. It is interactive, engaging and maybe even a little addictive.
However, the benefits of Augmented Reality are not limited exclusively to eCommerce. It is also widely adopted across social, on Instagram in particular where the technology is used to develop creative and immersive filters.
An excellent example of this comes from one of our clients, Elbow Grease, who launched the 'Which Elbow Grease Product Are You?' filter as part of a campaign in 2020 – which you can try for yourself here.
As we enter our second year of living with Coronavirus, the brands that emerge stronger will be those that adapt their digital strategy to embrace these new consumer behaviours. AI & AR are the two technologies that I believe can help your brand do just that.
The brands that recognise how to internalise the external expectations of their audiences and offer these innovative approaches to deliver new value will be those that not only survive, but thrive in the months ahead.